Subtle Branding for Your Hotel
During an event, it is best to approach the use of logos throughout the event space. But in other cases, such as hotel rooms, it is better to communicate the brand's message more subtly by using the brand colors or logos in existing decor elements. The VTech Next Gen Guestroom Phones are a new way for hotels to subtly brand their rooms. The phones have a sleek, modern design and come with features that would be beneficial for guests. The property's attractiveness can undoubtedly influence the guest's perception and set the expectations of the service quality. This is where VTech's Next Gen phones come into play.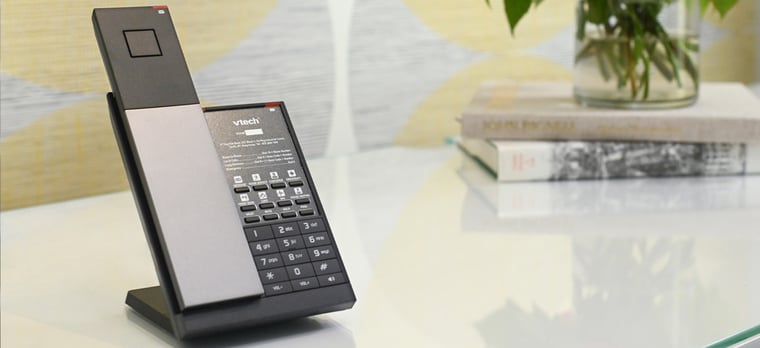 NG-A3411 & NG-S3411 Cordless
These one-line SIP phones are excellent for a traditional take on hands-free communication. Cordless design and base and handset speakerphones let guests get comfortable, while advanced digital features ensure they have mobility at all hours. In addition, the handset's battery life is incredible, with seven hours of talk time and seven days of standby time. They are designed with form and function in mind, merging contemporary style with a user-friendly interface. It helps leading hoteliers deliver seamless service continuity, control costs, and hassle-free administration duties.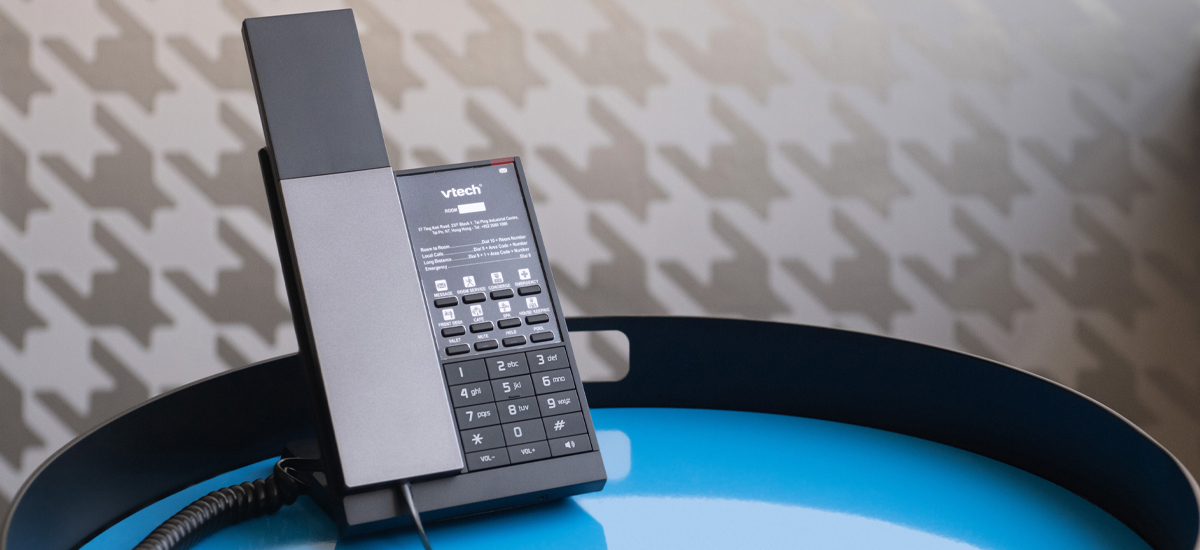 NG-A3211 & NG-S3211 Corded
These one-line analog phones feature corded comfort, elegant styling, and antibacterial plastic and are a modern addition to any guest room. Since it's line-powered, your guests can always stay connected—even during power failures. The secure encryption also provides the utmost privacy to guests. They are designed with the unique needs of the hospitality industry in mind, while innovative, user-friendly features and technologies accommodate a variety of business models and property needs.


Branding Hotel Room Phones with Customizable Face Plates
Our Next-gen hotel tech Analog and SIP (corded and cordless) offer various brilliant features while complimenting boutique hotel rooms and luxury hotel rooms alike. Whether your hotel aesthetics are contemporary cool or minimalistic, our phones create a great first impression. Most importantly, hoteliers have the freedom to customize the handsets in any color or branding of their choice, ensuring they fit perfectly with the decor!
Just like your hotel, VTech phones offer a distinct style, great experience, and personalized service. With their small & compact design, they fit perfectly on the smallest bedside tables. In addition, they are equipped with VTech's signature antibacterial plastic that inhibits 99.9% of bacteria growth. From small boutique hotels to the world's largest luxury-class hotels, VTech can match your business needs with solutions to suit the most demanding guests from the business traveler to the casual holidaymaker.