The VTech CTM-S2116: Maximizing Space in Your Hotel Room with Style
In the world of hotel room amenities, size matters more than you might think. For both travelers seeking comfort and hoteliers looking to optimize their space, every square inch counts. Enter the VTech CTM-S2116, a game-changing hotel phone system that is not only a communication marvel but also an efficient space-saver.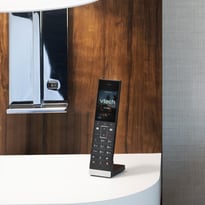 The Incredibly Tiny Footprint
One of the standout features of the VTech CTM-S2116 is its remarkably tiny footprint. In the hospitality industry, where efficient use of space is paramount, the CTM-S2116 is a champion. Its compact design ensures that it will fit perfectly on even the smallest tables, enabling you to make the most of your limited space. The CTM-S2116's unobtrusive size won't dominate valuable tabletop space, granting your guests the freedom to use their space as they please.
Efficiency and Elegance in One Compact Package
The VTech CTM-S2116 doesn't just excel in space-saving; it's also a sleek and elegant addition to any hotel room. With its silver and black color scheme, it effortlessly blends in with various interior design styles while adding a touch of modernity and sophistication.
Despite its small size, this compact package is loaded with features aimed at enhancing the guest experience. It includes a 1-line SIP hidden base, along with a cordless color handset and charger. Guests can enjoy impeccable call quality and effortless communication, whether they need to contact the front desk, request room service, or interact with other hotel services.

The cordless handset adds a layer of flexibility to guests who might prefer working from the comfort of their bed, ensuring they can stay connected without being tethered to a desk. It's not just about saving space; it's about offering your guests a superior and convenient experience.
By investing in the VTech CTM-S2116, you're not only providing your guests with top-notch communication facilities but also enhancing their overall hotel experience. Efficiency and elegance come together in one compact package, making the CTM-S2116 an exceptional choice for any hotel looking to optimize its space. So, why compromise when you can have it all with the VTech CTM-S2116?